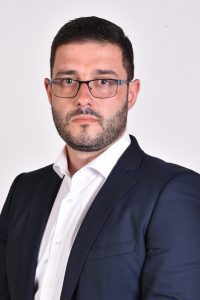 He is the current President of the Council of the Municipality of Delchevo Гоце Попов кој по професија е дипломиран инженер- архитект и основач на проектантско биро со седиште во Делчево. Роден е на 18.04.1986 година во Битола. Во Делчево  завршува основно и средно образование, а во 2011 година дипломира на Архитектонскиот факултет при Универзитетот "Св. Кирил и Методиј" во Скопје. По дипломирањето работи во Скопје во областа на проектирањето и изградбата на објекти, а потоа отвора свое проектантско биро во Делчево, каде работи и денес. Живее во Делчево заедно со своето семејство, сопруга и две деца.
Покрај примарната професионална активност, Попов има активно учевство и во доменот на спортот, односно во Фудбалскиот клуб "Брегалница" од Делчево, каде од најрана возраст, најпрво, како младински фудбалер и потоа како фудбалер во првиот сениорски тим, смело ги брани боите на клубот. Изминативе три години е тренер на сениорскиот тим во клубот кој е гордост на целиот град.
Љубовта кон родното Делчево го мотивира да работи за поубаво и помодерно Делчево, Делчево во кое ќе се гради врз основа на традицијата, а оплеменува со современото и модерното.