Territorial firefighting unit – TPPE Delchevo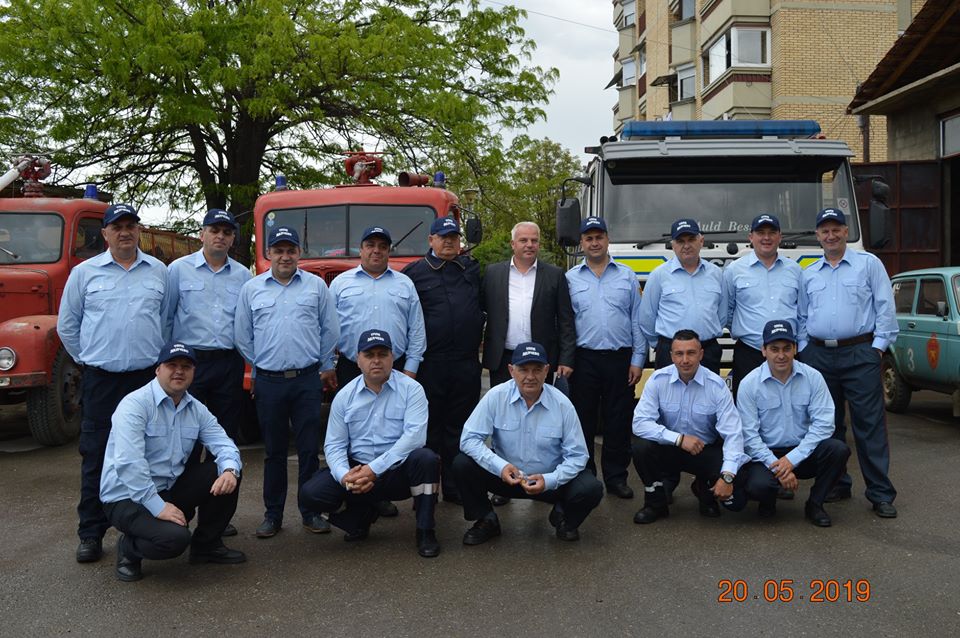 With the decentralization, TPPE passed into the competence of the municipalities. The territorial firefighting unit in Delchevo operates on the territory of the Municipality of Delchevo, but also if necessary in the neighboring municipalities. The total number of employees is 16 firefighters-rescuers.
On the occasion of Firefighters' Day, May 20, 2019, and po a period of almost two decades, Delcevo firefighters received new protection equipment thus adding to their professionalism and efficiency an important moment for their personal protection in dealing with the fire.  The equipment was procured in cooperation with the Brigade of the City of Skopje and Delcevo companies.
In the past two years, investments have been made in modernizing and improving the conditions and accommodation of firefighters.
Otherwise, the fire department in Delchevo writes history of 7– decades of operation. Пvoluntary fire brigade e formed by Ilija Damjanov Krstevski from Delcevo in the 50s, po what is formed the first unit led by Commander Nikola Dimitrovski.
Competencies
– Extinguishing fires in the area of the city of Skopje;
– Elimination of immediate fire hazard;
– Saving the lives of citizens and protecting property endangered by fires and explosions;
– Providing technical assistance in accidents and dangerous situations;
– Performing other work in case of accidents and disasters;
– Performs non-profit services in order to improve the technical equipment and working conditions, which must not disable or hinder the performance of the functions from the previous lines of this paragraph;
– Together with the territorial firefighting units of the municipalities in the Republic of Macedonia determined by law, they act as firefighting units of the Republic of Macedonia for operational action in extinguishing large fires on the entire territory of the Republic of Macedonia;
– Providing assistance when required to extinguish fires in other countries;
– Keeping special records for fires, explosions, extinguishing interventions and interventions for other events according to a single methodology and reporting to the Directorate for Protection and Rescue and the City of Skopje;
– Periodic inspection and check of the correctness of the firefighting equipment available to the Territorial Firefighting Unit;
– Ongoing mechanics repair and maintenance;
– Providing fire protection for buildings, delegations, public gatherings, sports and other events, in coordination with the Ministry of Interior;
– Performs training in the field of fire protection of ARM members;
– Education of citizens for fire protection, through organization of lectures, through media and organization of other activities.
Interventions
| | | | | | |
| --- | --- | --- | --- | --- | --- |
| Year | Total interventions | Open space | Objects | PMV | Technical interventions |
| 2022-тековна | 11 | 3 | 6 | 1 | 1 |
| 2021 | 33 | 19 | 8 | 4 | 2 |
| 2020 | 34 | 17 | 13 | 3 | 1 |
| 2019 | 84 | 56 | 26 | 2 | / |
| 2018 | 40 | 18 | 16 | 3 | 3 |
| 2017 | 52 | 34 | 14 | 3 | 1 |
| 2016 | 41 | 22 | 19 | / | / |
| 2015 | 35 | 16 | 14 | 4 | 1 |
| 2014 | 29 | 13 | 15 | 1 | / |
| 2013 | 42 | 24 | 17 | 1 | / |
| 2012 | 79 | 56 | 18 | 3 | 2 |
| 2011 | 73 | 49 | 18 | 5 | 1 |
| 2010 | 26 | 16 | 7 | 2 | 1 |
| 2009 | 19 | 7 | 12 | / | / |
| 2008 | 40 | 24 | 12 | 4 | / |
| 2007 | 55 | 36 | 17 | 1 | 1 |