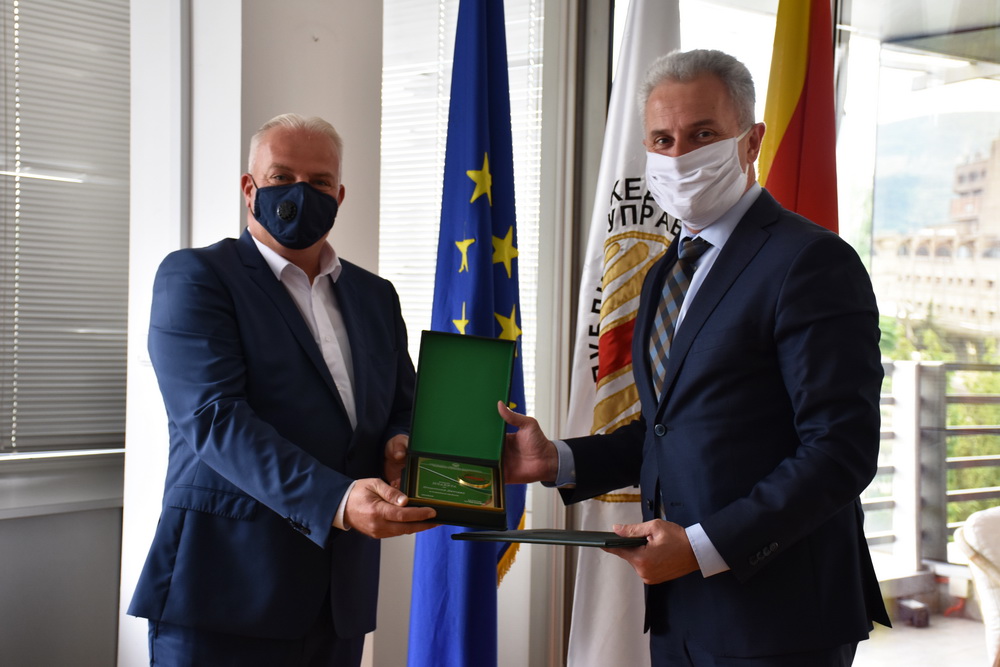 On the occasion of marking the day of the Customs Administration of the Republic of Northern Macedonia, the Mayor of Delchevo, Goran Trajkovski, today received a Plaque with a Charter for special contribution to improving the reputation of the service, mutual cooperation and timely informing citizens of all measures faster and uninterrupted flow of passengers, vehicles and goods through GP Delchevo.
At the event which is traditionally celebrated on April 14, and due to the current situation took place today at the premises of the Customs Administration, the Director General of the Customs Administration Gjoko Tanasoski used the opportunity to express gratitude to the permanent associates and partners..
- Faced with the fact that this year, unfortunately, due to the situation we are familiar with on the sitee, the traditional festive event was canceled, plaques in gratitude for good cooperation were awarded today. With the help of the Municipality of Delchevo during 2019, we performed horticultural landscaping of GP Delchevo, on several occasions cleaning of municipal waste and other waste is organized, as well as washing of the crossing itself and the approaches from and to it. In addition, the Municipality donated part of the necessary office inventory of CI Delchevo, said Tanasoski.
Mayor Trajkovski expressed gratitude for the award and emphasized the efforts of Delchevo as a border municipality and in the future will have the obligation, from its aspect of action, to contribute to the smooth functioning of the Delchevo BCP.
Apart from Mayor Trajkovski, Tomislav also received plaques Vanchev IT– programmer at SEMOS Skopje, as well as  Anastas Mazenkovski, passistant– Director of the Sectorth for excise duties in the Customs Administration