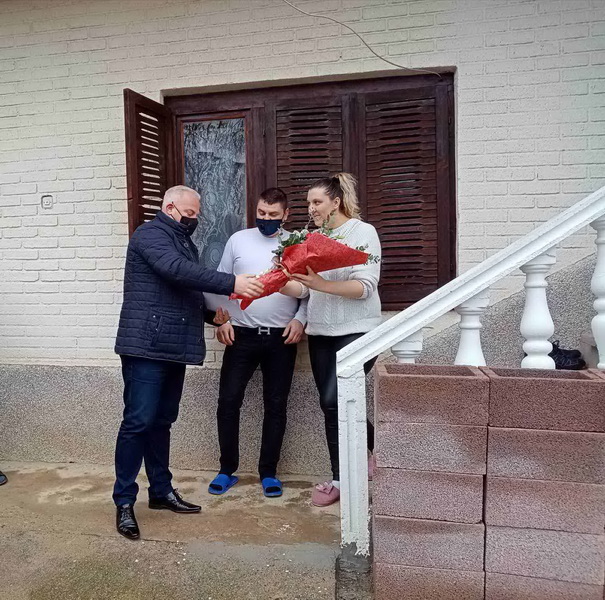 The first newborn in 2021 in the Municipality of Delchevo, little Mila Stoimenovska, today he received 10,000 denars from the Municipality of Delchevo. Mila was born on January 4 at the Skopje clinics, weighs 3,930 g and is the first child in the family of Daniel and Sandra Stoimenovski who live in the village. Ѕвегор.
Traditionally, this year the mayor Goran Trajkovski handed over the gift to the parents.
–Every new birth brings joy, hope and future, and Delchevo rejoices in every newborn, because it gets a new resident. The firstborn of the year is a harbinger of a new generation of children who are our future. Traditionally, we visit the home of the first born baby of the year. This year, due to the current situation, we will hand over the gifts to the parents, but we will send wishes, little Mila to have a happy and carefree childhood and to bring a lot of joy and pride to the family, but also to the municipality. I take this opportunity to congratulate them the joy of the parents whose little Mila is the first child in the family and to have a lot of love and children to cheer up their home, said Trajkovski.
Municipality of Delchevo donates 10,000 denars to the first born newborn in the year whose parents live in Delchevo, and according to the information from the family gynecologists from the Health Center and the Prevention and Immunization Service. Also, as one of the social measures that means support for parents who have a newborn, Municipality of Delchevo to all newborns in the Municipality pay 3 thousand denars one-time financial aid. Last year on this basis were paid 266.000 denars for 82 newborns in the Municipality.