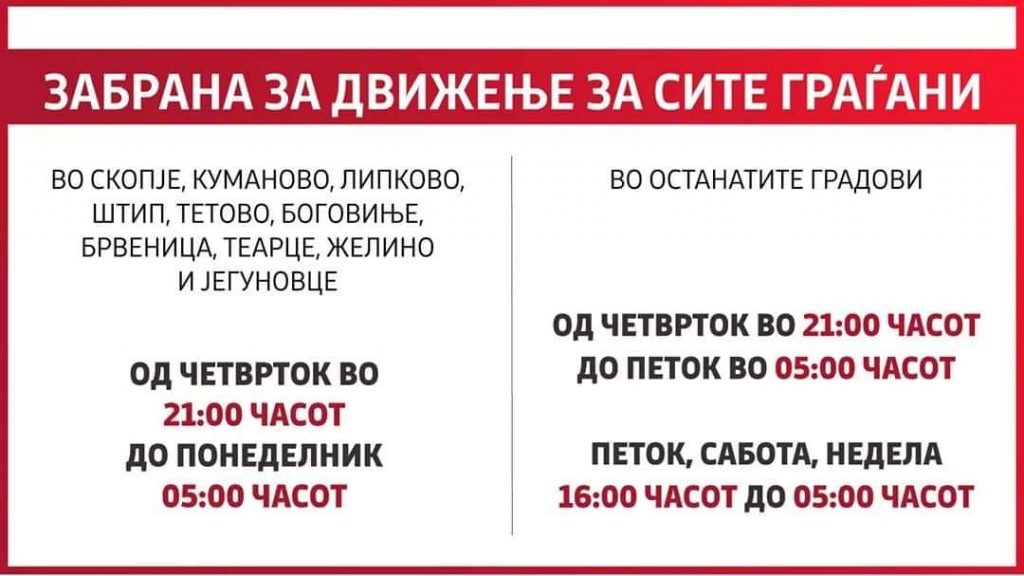 In accordance with the recommendations of the Commission for Infectious Diseases, the Government of RSM at yesterday's session made the following decisions in order to respond quickly and efficiently to prevent the spread of coronavirus, which will apply to the citizens of the Municipality of Delchevo.
1.       The movement of all citizens from Thursday (June 4) from 9:00 pm to Friday (June 5) until 5:00 am.  on Friday, Saturday, Sunday the ban starts at 16:00 and lasts until the next day until 05:00 in the morning.
2.      In the period from Thursday (June 4) from 21:00 to Monday (June 8) until 05:00, visiting cemeteries throughout the country is prohibited, except in the case of funerals.
3.      For agricultural activities, movement within the territory is allowed (the area) of the villages, exclusively for the working needs, only for the inhabitants of the villages. Farmers who do not have a place to live in the villages to complete their agricultural activities and return to their homes by 4 pm (Friday, Saturday, Sunday).
4.      The cattle breeders on the territory of the city of Delchevo can perform the works from 5 pm to 7 pm (Friday, Saturday, Sunday), to report it on tel: 078 / 705-513, no later than 3 pm on June 4, 2020.
5.      Economic operators can work on line during a curfew in the period from 4 pm to 9 pm (Friday, Saturday, Sunday).
6.      The pharmacies will work smoothly, and the Ministry of Health will develop a plan for smooth operation of the health institutions.
7.      Exceptions to the travel ban apply to the police, the army, health professionals (in PHI and PHI, as well as family doctors) and to markets and restaurants that deliver products, and they will carry out their engagements smoothly.
8.      The movement ban does not apply to people with disabilities and their companions if they have appropriate documentation.
9.      The walk of the pets (dogs) will be in the periods 08:00 to 8:30, 15:00 to 15:30 and 20:00 to 20:30.