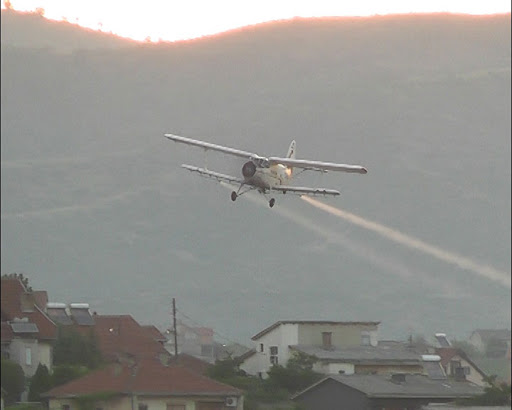 Municipality Delchevo ја информира јавноста дека на ден 06.07.2021 година (вторник) in the period from 05, 00 to 08.00 на територијата на Делчево will are спроведе авионско прскање против возрасни комарци.
Прскањето ќе се врши со средство – широкопојасен инсектицид- еколошки препарат CICERON 2.ULV, approved by the Bureau of Medicines, and will be performed by a licensed airline company BONIER DOOEL Kumanovo, selected after a previously conducted tender procedure.
The treatment will be performed on an area of 300 ha, as follows:
– 200 ha  (лево и десно по 100 метри од речното корито на Брегалница, централно градско подрачје до езеро Сандански.
– 2x50 ha Старо Делчево, Таушанско Маало, Стрелиште и Ново Делчево, Милково Брдо, Басарица и нас. Пролет.
За таа цел, се известуваат пчеларите во времето на третирањето, as and in the period from 3 to 4 hours after spraying, to close the beehives, due to the possibility of the influence of the means by which the treatment is performed on the safety of the bee families.
In case of precipitation, spraying will be postponed for the next day.